White Calcium Chloride Lumps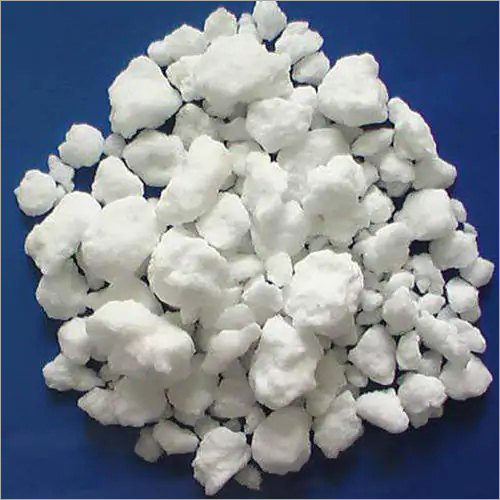 White Calcium Chloride Lumps
Price And Quantity
Ton/Tons

900.00 - 7500.00 INR
Product Description
White Calcium Chloride Lumps
We are an acclaimed manufacturer of White Calcium Chloride Lumps in the market. Owing to its insolubility in water, these lumps are widely used as desiccant for various solvent. White Calcium Chloride Lumps go through varied quality checks prior to dispatch to make sure that we serve our clients with a flawless range.
We are proud to reckon as one of the topmost Ground calcium carbonate Exporters from India. We offer finest quality Calcium Carbonate Powder that is known for its purity, whiteness and free flowing nature. Used in various applications such as in rigid PVC pipes, pain, ink, powder coating and ceramic industry. Good dispersion properties of Natural Calcium Carbonate Powder make it widely recommended by our esteemed customers. In addition to this, Calcium Carbonate Powder is also available in different quantities and packing as per the requirements of patrons. Natural Calcium Carbonate Powder can be obtained at the most competent prices.
Typical Properties of Calcite :
Higher flow properties
Higher mechanical properties in thermoplastic applications
Better gloss and whiteness in Paints & Powder coating applications
Excellent dispersion properties
Prevents chalking
Better corrosion resistance
Application of Calcite :
Leather Cloth Industry
Paints, Inks, Powder Coating & Ceramic Industry
Rubber Industry
As a flux in Glass Industry & in sizing of Textile goods
Our grades of Calcite powder are available in 300 Mesh to 700 Mesh BSS standard & in
Micronize grades, Our grades are available in top cut 5, 10, 15 & 20 Microns.
Chemical Composition Of Calcite :
CaCO3 90% to 97%
MgO 1.5% to 2.5%
Silica 1 % to 3.5%
Variation of the specifications stated due to natural raw materials & environment
conditions are possible. though they have no influence on the application properties described.
Surface Treated Calcite
We also do coating on Calcite powder. We provide coating of Steric Acid. The Coated Calcium Carbonate powder is used in plastic compounds manufacturing to avoid moisture contains. Coating is done from 1% to 3% or as per customer requirement.
Typical Properties of Surface Treated Calcite :
Rapid and complete dispersion
Low abrasion at higher loading
Low moisture content
Good compatibility with Polymers & other additives
Increased flow rate
Reduced plasticizers & other additives
Better HDT
Better Impact strength
Better dispersion
Lower raw material cost
Application Of Calcium Carbonate
Paper, Plastics, Paints, and Coatings:- Calcium carbonate is the most widely used mineral in the paper, plastics, paints and coatings industries both as a filler and due to its special white color - as a coating pigment. In the paper industry it is valued worldwide for its high brightness and light scattering characteristics, and is used as an inexpensive filler to make bright opaque paper. Filler is used at the wet-end of paper making machines, and calcium carbonate filler allows for the paper to be bright and smooth. As an extender, calcium carbonate can represent as much as 30% by weight in paints. Calcium carbonate also is used widely as a filler in adhesives, and sealants.

Personal Health and Food Production:- Calcium carbonate is used widely as an effective dietary calcium supplement, antacid, phosphate binder, or base material for medicinal tablets. It also is found on many grocery store shelves in products such as baking powder, toothpaste, dry-mix dessert mixes, dough, and wine. Calcium carbonate is the active ingredient in agricultural lime, and is used in animal feed. Calcium carbonate also benefits the environment through water and waste treatment.

Building Materials and Construction:- Calcium carbonate is critical to the construction industry, both as a building material in its own right (e.g. marble), and as an ingredient of cement. It contributes to the making of mortar used in bonding bricks, concrete blocks, stones, roofing shingles, rubber compounds, and tiles. Calcium carbonate decomposes to form carbon dioxide and lime, an important material in making steel, glass, and paper. Because of its antacid properties, calcium carbonate is used in industrial settings to neutralize acidic conditions in both soil and water.
Specification
| | |
| --- | --- |
| PRODUCT | GROUNDED CALCIUM CARBONATE POWDER |
| Rates in INR Per Tonne | 4600 To 7400 |
| Particle Size | 20 Microns To 2 Microns |
| State | Powder |
| Whiteness | 92-95% |
| Brightness | 93% Min |
| Purity | 75% / 85% / 95% |
| Calcium Carbonate as CaCo3 | 75% - 95% |
| Silica as SiO2 | 1 - 3.5% |
| Magnesium Carbonate as MgCo3 | 0.4% - 3% |
| Alumunium Oxide as Al2O3 | 0.1-0.5 |
| Sodium Oxide as Na2O | < 0.05 |
| Sulphate as SO4 | 0.02 % Max |
| Chloride as Cl | Traces |
| Iron (Fe) | < 100 ppm |
| Calcium oxide as CaO | 1.5% to 2.5% |
| Magnesium Oxide as MgO | 1.5% to 2.5% |
| CaCl2 | 0.6 to 0.8 |
| Appearance/Color | White |
| IUPAC Name | Calcium carbonate |
| Other Name | Calcite |
| Molecular Weight | 100.0869 g/mol |
| Molecular Formula | CaCO3 |
| Grade Standard | Industrial Grade |
| pH Value | 8.5 to 8.8 |
| Refractive index | 1.59 |
| Specific Gravity | 2.5 - 2.7 |
| Melting Point | 1,339 C |
| Boiling point | Decomposes |
| Loss on ignition | 43% - 44% |
| Loss of Drying | 0.4 Max |
| Lumps | Available |
| Solubility | Max 1% |
| Bulk Density | 0.9-1.35 |
| Oil absorption value | 40 to 50% |
| Fe, Al,PO4 Matter Insoluble | Max. 0.5% |
| Soluble Alkali as Na20 | Max. 0.2% |
| Acid Insoluble | Soluble |
| Volatile Matter | Min 96% |
| Solubility in water | 0.0013 g/100 mL (25C) |
| Density | 2.711 g/cm3 (calcite), 2.83 g/cm3 (aragonite) |
| Odor | Odorless |

Trade Information
Telegraphic Transfer (T/T), Cash in Advance (CID), Cash Advance (CA)

100 Per Month